The Shopping Map - Summer/Autumn 2016
Continuing the nearly 5-year-long tradition of our bi-annual Slovenia Shopping guides, The Shopping Map is a compact, convenient and useful companion on any serious shopping trip to Ljubljana – for first-time visitors, frequent guests or even resident locals. Although many venues are located elsewhere, for simplicity's sake we've divided the capital's shopping areas into two main districts: the old town city centre and BTC City, which is how this map is presented.
Along the cobblestone streets of Ljubljana's fairytale old town centre there are countless small boutiques offering premium international brands, award- winning unique Slovenian designer products, high-quality traditional crafts and souvenirs, original artwork, ancient antiques and much more. Several larger multi-floor shopping centres can also be found in the old town, but to experience contemporary shopping in Slovenia at its most extreme, it's best to head out to Blagovno Trgovinski Center (Goods and Shopping Centre), or simply BTC City for short.
Located 5km to the northwest of the city centre, with some 500 shops spread over more than 250,000 square metres, BTC City is not only the largest retail area in Slovenia, but one of the largest shopping districts of its kind anywhere in Europe. At its heart is the modern Citypark shopping mall, and in addition to its retail offering, BTC also boasts various entertainment facilities, such as a 12-screen multiplex, bowling alley, casino, fitness centre and waterpark, as well as a luxury hotel and various commercial buildings, including Slovenia's tallest building, the 89m Crystal Palace. Happy shopping!
Our Partners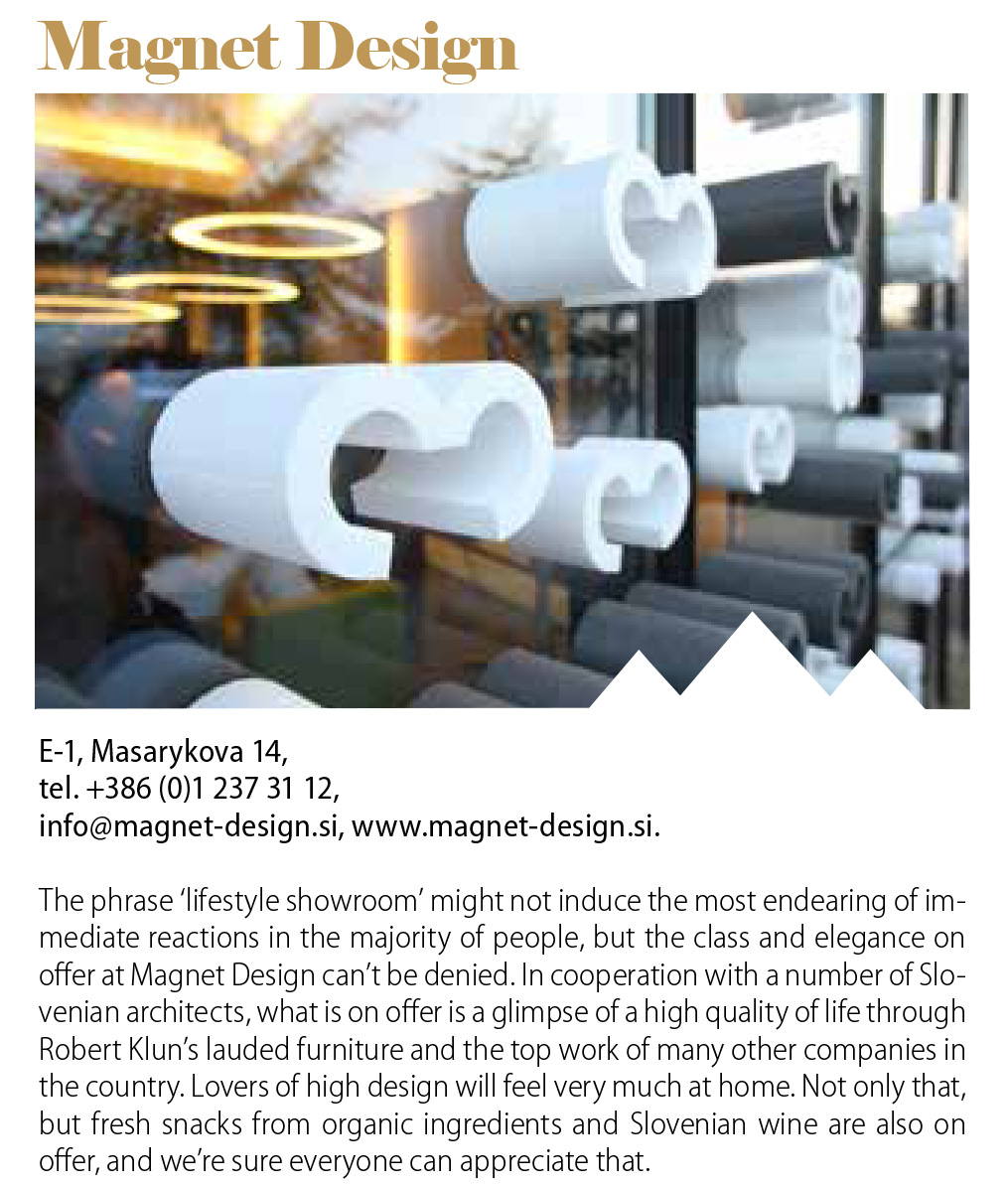 Sales & Editorial Info
Publisher IQBator d.o.o., Slovenska cesta 17, 1000 Ljubljana, Slovenia
Director Niko Slavnic M.Sc
Published May 2016 (60,000 copies), Nov 2016 (40,000 copies),
Printed Evografis d.o.o.
Maps Monolit d.o.o.
Managing Editor Yuri Barron
Writers John Bills, James Cosier
Design Mateja Štruc
Sales Irena Jamnikar, Stanka Parkelj Rozina, Štefan Kodila
Contact +386 30 706 000, info@the-slovenia.com
Copyright notice Text and photos copyright IQBator d.o.o. Maps copyright cartographer. All rights reserved. No part of this publication may be reproduced in any form, except brief extracts for the purpose of review, without written permission from the publisher and copyright owner.